On Friday, 10 July [2015], at approximately 9:20 am, I hopped on a train heading south-west to Bath, England. All of you fellow Austenites should know where this is going.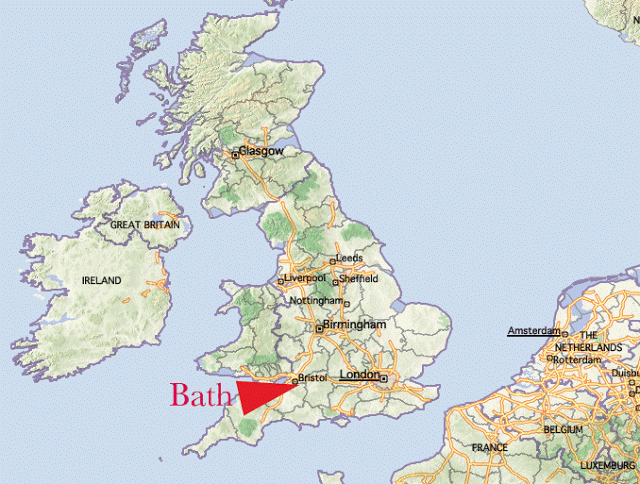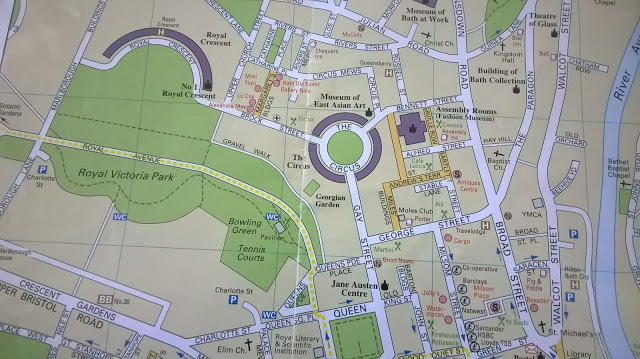 Jane Austen is referred to as Bath's most famous resident, visiting in 1797 and 1799, respectively, and living here from 1801 - 1806, and setting two of her novels, Northanger Abbey and Persuasion, in the city as well; all of her work mentions Bath. At the time, Bath was a famous resort town in England, much like the Las Vegas of our own day. It was a place to see and be seen, as well as a place for the sick or infirm to try and find healing in the hot springs of the baths, which dated back to Roman times.
Bath affected Jane's writings, and her own personal experiences likewise reflect back on the city. In Northanger Abbey, one of Austen's earlier novels, Catherine Morland is excited and eager to see the city, exclaiming, 'Oh! Who can ever be tired of Bath?' In Persuasion, her last finished work, written nine years after leaving Bath, the city is full of shallow, fashion-conscious people, and Ann Elliot finds the city constraining.
Be that as it may, the city undoubtedly held a place of great importance in her life and in her work, and it's not too difficult to imagine why: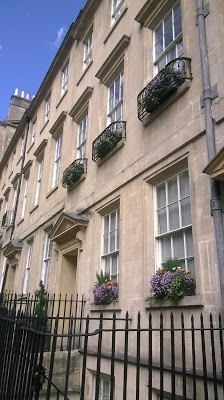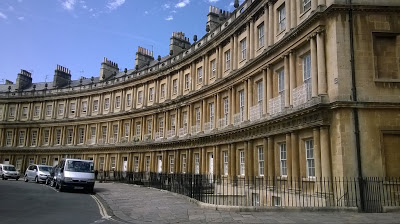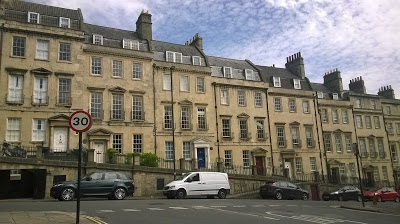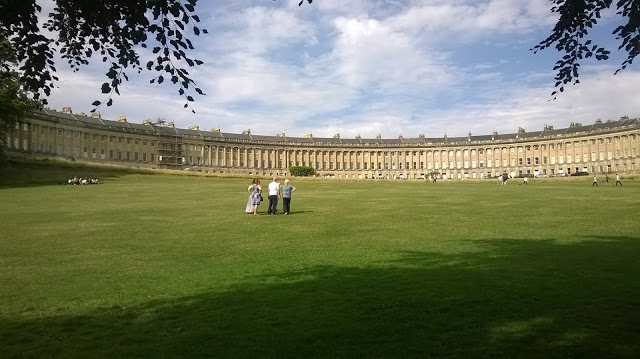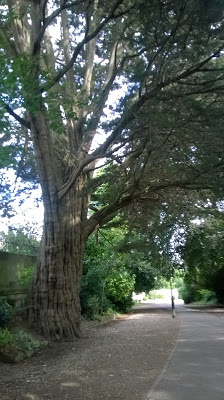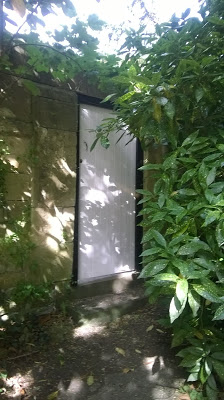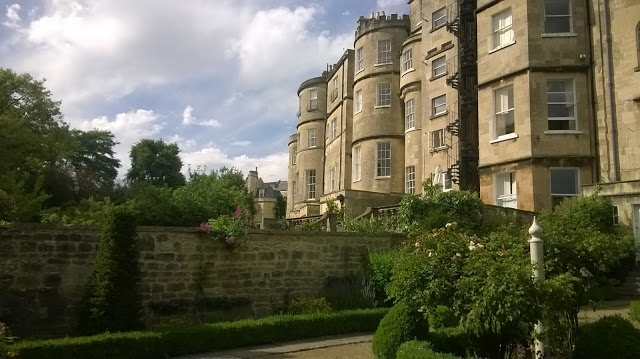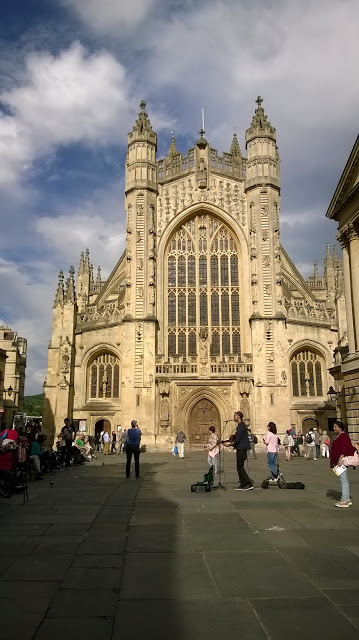 Bath is an absolutely breathtaking city, there is nothing like it around Cleveland, and it must have been something to a country girl like Jane Austen, when she first arrived.
I went to the Jane Austen Centre, an exhibition focusing on the five years of Austen's life spent living in the city. It's located at No. 40 Gay Street, a house very similar to the one Jane lived in - No. 25 - for a few months following her father's death in 1805. They were both built in the Georgian style between 1735 and 1760 by Bath-based father-son architects John Wood the Elder and John Wood the Younger. The houses are alike in design, although this house had an extension added in the 20th century covering all of the garden, where the permanent exhibition is located.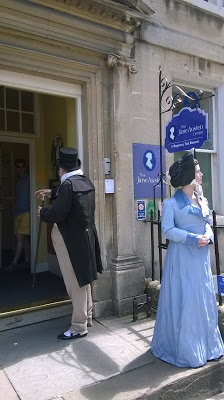 The house is definitely authentic, as it's all very tight and cozy, or what Americans would call cramped and small. The gift shop/ticket window is through the front door to the right, then it's back into the entryway and up the stairs, first room first landing. This room would have been the upstairs ladies' parlor, where the women of the house would drink tea, write letters, sew, and entertain lady (and maybe even gasp gentleman) visitors.
In this room were benches for modern visitors to wait to be admitted by a costumed interpreter to an adjacent room with more benches, where the guide would give a brief background about Jane's life here in Bath before sending us down a second flight of stairs into the exhibit itself.
The first room presented a little timeline on one wall pertaining to all the important events of the day, such as coronations of kings, births of poets and authors, with Austen's own personal timeline interspersed. On the other wall were objects and text (there they are again!) acquainting viewers with the people, customs, and general way of life at the turn of the eighteenth century.
Then followed a darkened room playing a 15-minute video about Austen's life in Bath, narrated by none other than Adrian Lukis, aka George Wickham of the 1995 BBC version of Pride and Prejudice.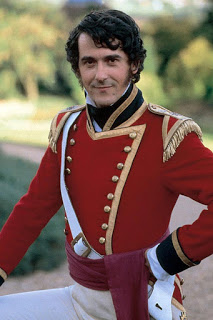 After we were done being distracted by trying to figure out who the narrator played that one time (I helpfully reminded one woman who only remembered it started with a "W"), we went on into a long gallery highlighting different aspects of Austen's life in Bath, punctuated by quotes from her letters to her sister, Cassandra, or excerpts from her novels. These ranged from her shopping activities, to socializing at dances and concerts, to clothing, and to tea-time, at which point they tried to pass these things off as biscuits: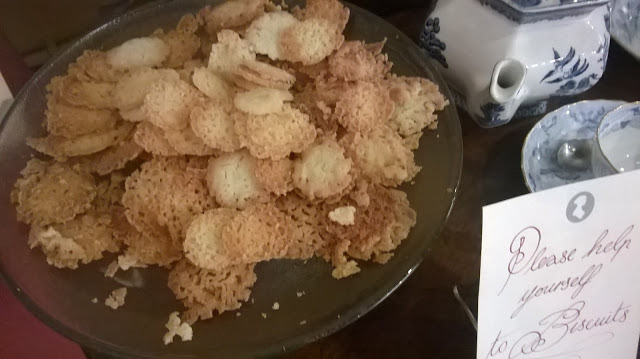 I was most intrigued by this:
An original dress dating from the Regency era, it came to Bath costume maker Sue Seals in 2002, entirely in pieces. The story was displayed beside the dress on an easel, complete with photographs: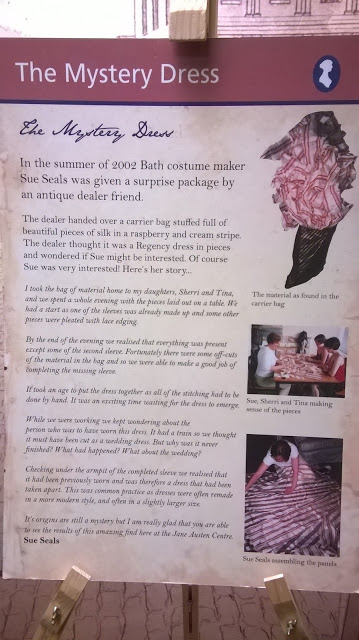 It's a lovely dress, and I probably got in everyone's way by hovering around it so much they gave up trying to take its picture.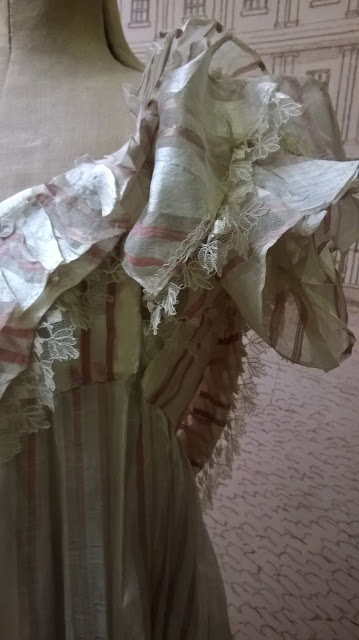 ![image](https://res.cloudinary.com/frannsoft/image/upload/v1580131265/blackcatwhiterabbit/jane-austen-centre/19.jpg "This dress has an interesting "bib" like front to it consisting of two layers, the triangle with applied self-trim and lace lower and the split/ruffled upper.")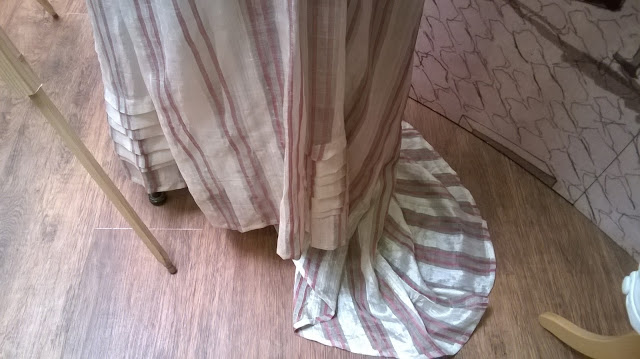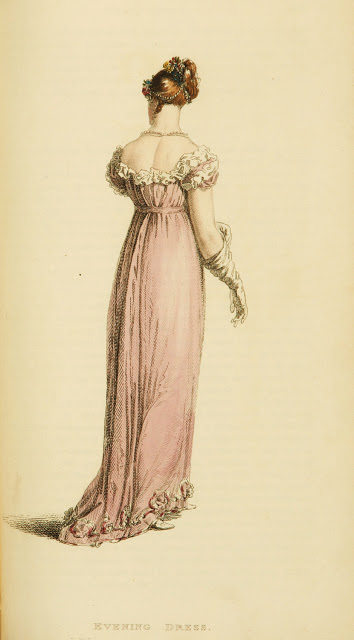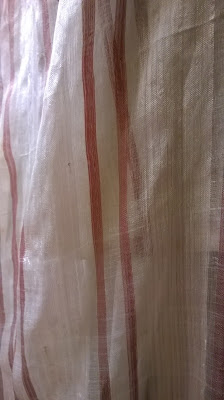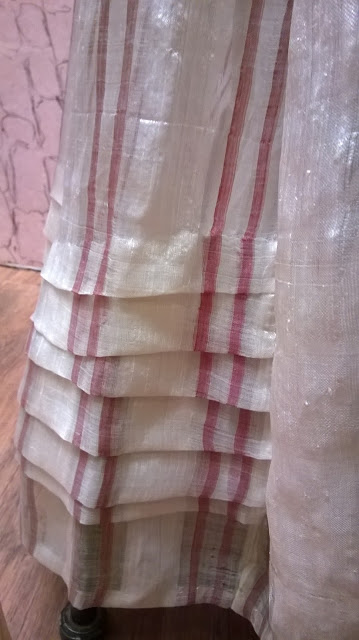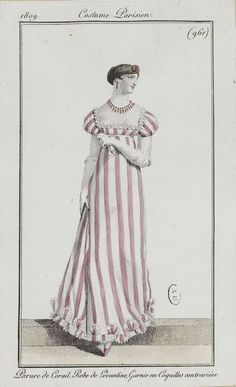 Admittedly I lingered over the costumes displayed more than anything else, there was also a shop front depicting lace, gloves, and other accessories, as well as an area for dressing up in the styles of clothing worn (I did that before it was cool) and a writing desk to try ones hand (pun) at using a bit-pen and ink. The final room contained references and images from Austen's works depicted in film and on the television (yes Colin Firth's Darcy was there) and the only authentic life-size waxwork of Jane Austen herself.
![image](https://res.cloudinary.com/frannsoft/image/upload/v1580131265/blackcatwhiterabbit/jane-austen-centre/25.jpg "Ahh! ("I've never liked the waxworks."))
The third floor hosts the tearoom, when I got to answer to the hostess' lovely question of "How many?" with "Just me."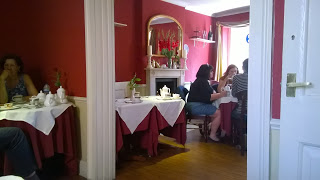 I munched on "Lady Catherine's Proper Tea," which consisted of two scones, one fruit one plain, served with clotted cream, two kinds of jam, and butter, plus a cream tea of your choice. I chose the Darjeeling.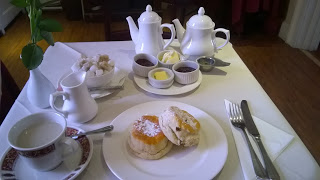 They bring out the tea-tray, which is very fancy and all, a teapot (right) with the actual tea in it, then a pot of hot water (left) to dilute the tea? (What?) Then a little strainer-thingy (right, front of teapot), then a pot of cream (far left, above the teacup). I felt just like Jane, until I slopped the tea all over the strainer and ended up with a puddle in my saucer, then forgot I put the sugar cubes in advance (because everyone knows unsweetened tea is gross) and freaked out when I thought something was in my teacup. Only I forgot to use the dilution-water and that Darjeeling was REALLY STRONG (Do not forget to dilute your Darjeeling).
After I had tarried for a reasonable amount of time in this manner, I went out and headed up to another point of interest: the Assembly Rooms, also playing host to the Fashion Museum, Bath.
Part II: The Fashion Museum, Bath
Information taken from:
Visitormaps: Bath, purchased at the train station shop
The Jane Austen Centre pamphlet, picked up at the Jane Austen Centre
Jane Austen's Bath: A Biography & Walking Tour of the City, purchased at the Jane Austen Centre