This morning we didn't have a formal class, with the time being set aside to work on some take-home assignments requiring a visit to the Museum of London: London Wall.
Our afternoon session took place at the Museum of London: Docklands.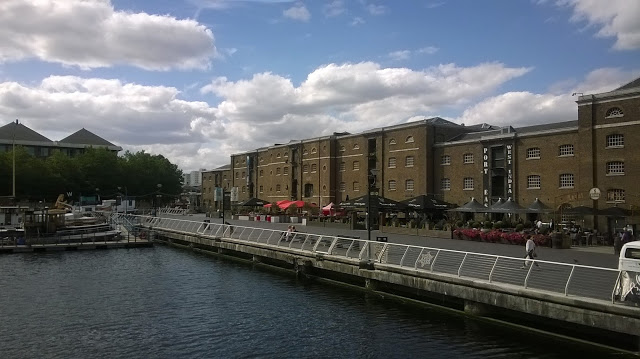 We were met there by Alex Werner, Head of the History Department, and soon after set off for a walking tour of the Docks and Canary Wharf.
As we walked, Mr. Werner urged us to think about the redevelopment of the city-space we saw, what we saw and our reaction to it, and what other people might see.
The buildings along the strip pictured above, of which the Museum is one, are old, dating back to the 19th century. Before they were here, the entire area was green fields, as the area was on the edge of the city.
It was soon taken over as a place for docks, turning it into a commercial area. These docks were used for cargo from the West Indies, specifically sugar, which was the most valuable kind at the time. Hence the warehouses stretched far down the docks, at the time they were probably the biggest in the world.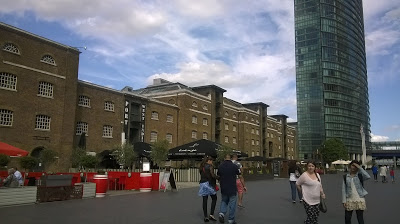 The docks pictured here on this side of the river were used for imports, those on the opposite for exports.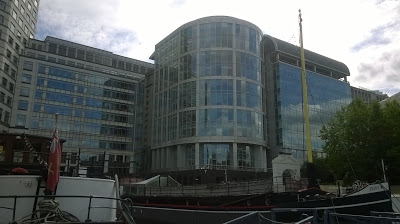 After the extensive bombing this area suffered from during WWII, the warehouses shown above were the only two to survive.
A change in cargo handling made them redundant, for there were ports at the mouth of the Thames that took over their role in the new manner. We were soon to see what ended up taking their place, walking around a variety of buildings and some green spaces: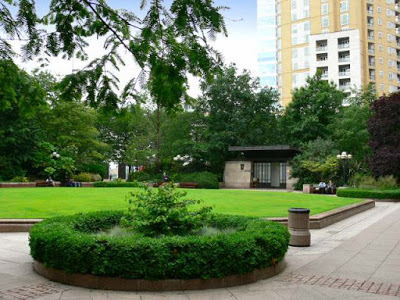 Coming to a stop with the Wharf behind us, Mr. Werner asked for our opinion of what we had seen. Some ideas were that it was very proper, almost unreal (some of the "grass" was in fact astro-turf).
He informed us that the entire area was cleared out in 1980, and everything we had seen was planned from the beginning by a Canadian development company, one that had also done parts of Manhattan around the same time.
In fact, on looking closely, it was obvious that the skyline had the feeling of Manhattan or Boston, more so than the typical "London" feel.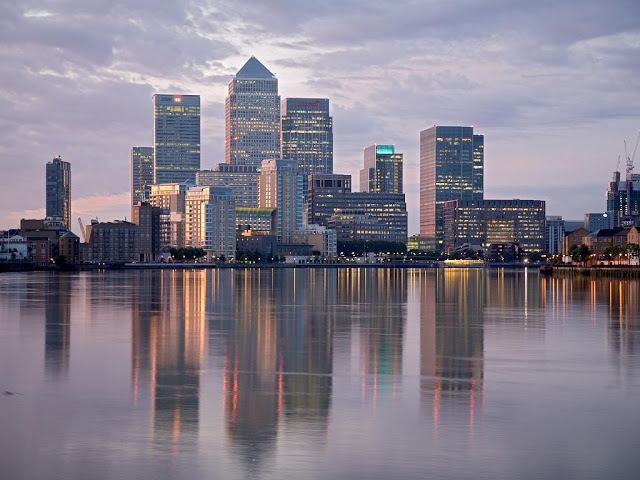 In fact, the area earned the nickname "Gotham City": it felt modern, but not quite modern. The architects were trying to make it feel permanent, paying attention to detail and giving it a lived-in, established persona. Their overall goal was to establish Canary Wharf as a rival financial district, placing it in direct competition with the City, the traditional financial and business district in London.
Fun Fact: The skyscrapers built in the City were actually built in response to Canary Wharf.

In order to fully compete, however, there had to be new means of transportation added to Canary Wharf, so an overground rail line was added, as was a Tube line going directly to the Canada One tower (the tallest one), as well as new roads.
At first Londoners didn't like the changes, as they had no reference point for what it was and why it looked the way it did (unless of course they had been to the States, which probably didn't help matters. London isn't New York, London isn't Boston. They have their own styles, and their residents are proud of those styles). It ended up taking Londoners twenty years to get used to the area and to begin really moving in and embracing working there.
Thirty to forty years ago, this area was zoned commercial, but there was no industry to be found. By the 1980's, the area was empty. Looking to develop the area, the city deemed it to be an enterprise zone, which was commonly done in Europe at the time in areas that were becoming de-industrialized. They also cut taxes on development, offering a huge opportunity for developers to come in, fix up a decrepit area of town, and then collect the profits as people began moving in.
One issue that Canary Wharf has begun to run into is that of gentrification. When first built, the area was not very desirable, and now it is, causing prices to rise. This is an issue in all of central London, where everything has become gentrified and now there is no cheap housing. Hence property developers are changing the way they build, with new residences growing taller and taller. Fun Fact: The area near the Museum of London: Docklands has been purchased by a Chinese development company and will soon be the location of London's tallest residential tower.
This makes dating residencies easy: the lower they are, the older they are. The taller they are, the newer they are. One can see examples of this merely standing on the bank of Canary Wharf, looking out across the river.
One such instance is the Cascades Tower, which Prince Charles doesn't like (he isn't a fan of modern architecture), and which was dubbed "Yuppie Towers," after the sorts of people who quickly moved in.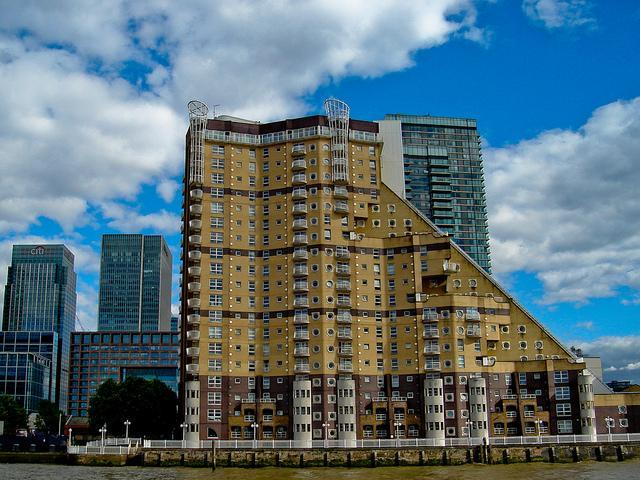 With space at a premium, people have started looking to the Thames itself for more options. Old London Bridge used to have houses on it, and ideas for floating houses or extending housing onto the river have been thrown out. One problem, however, is that the Thames is a tidal river, rising and falling everyday. There is the option of creating a barrier to make the river tideless, but so far it hasn't been attempted on a large scale.
Many of the old docks have already been taken over for living or commercial space. Some have become low-rise housing and are practically little towns, others were filled in for housing and businesses, and there is a large dock even farther east than Canary Wharf that will soon undergo the next wave of building. The greater amount of open space and undeveloped land east has shifted London itself eastward.
London is Europe's biggest city, and is very attractive to young people and families. Mr. Werner calls London a "pressure city", as more and more people pile in the pressure continues to increase on it in terms of housing, space, and transportation.
Canary Wharf is an example of how the new, modern London will continue to expand and grow along the eastern expanse. However, while the 80's saw the focus on steel and concrete, current building has begun to move back into the more naturalistic and sustainable, with wood being introduced and the inclusion of more "natural" planting.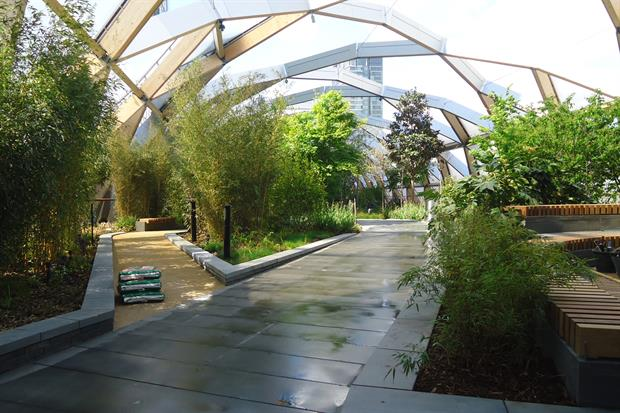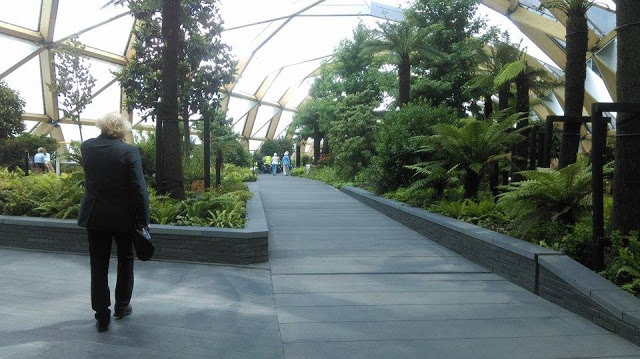 The main green space also has a bit of a futuristic element to it, and contains a concert area to provide entertainment to the thousands of businessmen and women who come to work here five days a week.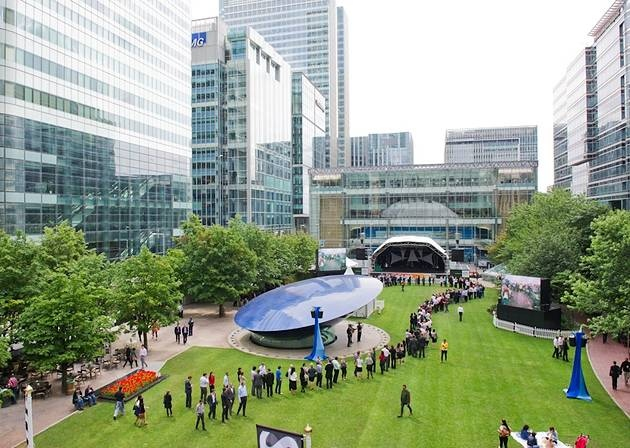 Interestingly, the Museum has a difficult time getting the office workers to come into the museum and view the displays, even though they're literally separated by a tiny green bridge.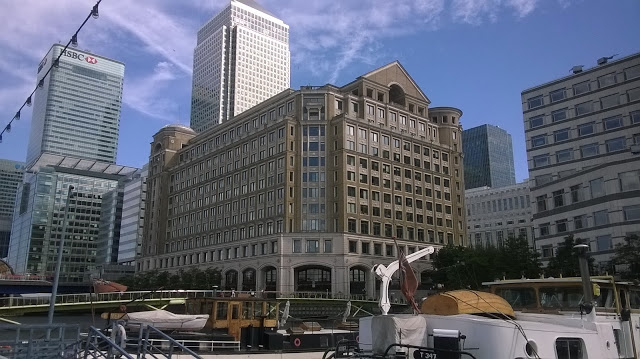 They do, however, wander across the bridge to drink in the pub right next to the Museum and that the Museum also owns, and even has a door connecting the two.
Cities are divided into zones. You have your work zones, your living zones, and your entertainment zones. For some reason, it's hard to leave one zone and head into the other, to leave your glass-and-steel office building, trek across a bridge, and go visit a brick-and-wooden-beamed museum.
And so perhaps our next great goal as a museum is to break down that barrier, to invite those at home or at work to come in for a few minutes, to have a quick walk around on a break, or to meet up in the lobby. To relax, to unwind, and not to believe that a museum is purely educational or studious and must be entered with an advance plan of spending hours looking and pondering. In essence, to reinvent our image.
If Canary Wharf can do it, so can we.